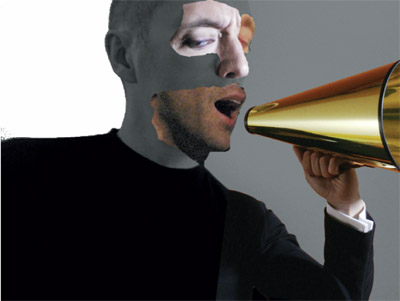 Theo Bleckmann. A jazz singer and new music composer of eclectic tastes and prodigious gifts, GRAMMY NOMINATED and ECHO award recipient, Theo Bleckmann makes music that is accessibly
sophisticated, unsentimentally emotional, and seriously playful, leading New York Times to describe him as "a vocalist of inventive instinct and assiduous musicality". He has released 6 albums on Winter & Winter and collaborated with musicians and composers, including Laurie Anderson, Philip Glass, Michael Tilson Thomas, John Zorn, the Bang on a Can All-stars, and, most prominently, Meredith Monk. Bleckmann has been interview by Terry Gross on NPR's Fresh Air and recently appeared on the Letterman show with Laurie Anderson.
Bleckmann's visual artwork is as playful and eclectic as his music: collages that re-imagine portraiture, incorporating humor, irritation, improvisation and wit through simple and direct means. Combining
the fewest possible elements, Bleckmann uses fashion, sports and other printed imagery that often relies on emotional posing, to rework its pastiche of appearances into snapshots of human expressions and emotions. Inspired by artists like Kurt Schwitters, Hannah Höch, Richard Hamilton and John Baldessari, Bleckmann's work eschews the obviously grotesque and uses improvisation with found materials to
create new characters and spaces.
His work has been exhibited in Germany, France and the US.